Wentworth Institute of Technology (WIT)

As a senior team, we developed a comprehensive platform to boost Fall 2022 recruitment at WIT. This included in-depth discovery sessions, competitor analyses, SWOT analysis, marketing research and interviews of staff, faculty and students. The result was the theme of "Make it Real" — a platform to showcase Wentworth's industry-class facilities, real-world training, and proof that students can truly bring their vision to life on campus and beyond. This led to a 25% increase in applicants in 2022-23.
kor group ltd.
Art Direction: MB Jarosik
Design Team: Vaishnavi Kumar, Jim Gibson, Brittany Latham
Photography: Matthew Conde
Copywriting: Thurston-Lighty
Guidance Counselor Kit - Poster: The next challenge was to create a memorable, impactful kit that guidance counselors in high schools could display in their offices. To showcase WIT's 3D printing facilities, I pitched the concept of 3D printing the words "MAKE" and "REAL" to use across multiple deliverables. We art directed WIT students and WIT's in-house photographer to capture this image, which I designed into a poster. This poster was rolled into a tube along with a stress ball and letter to guidance counselors.

Fun fact: This kit won a Gold EduAd Award!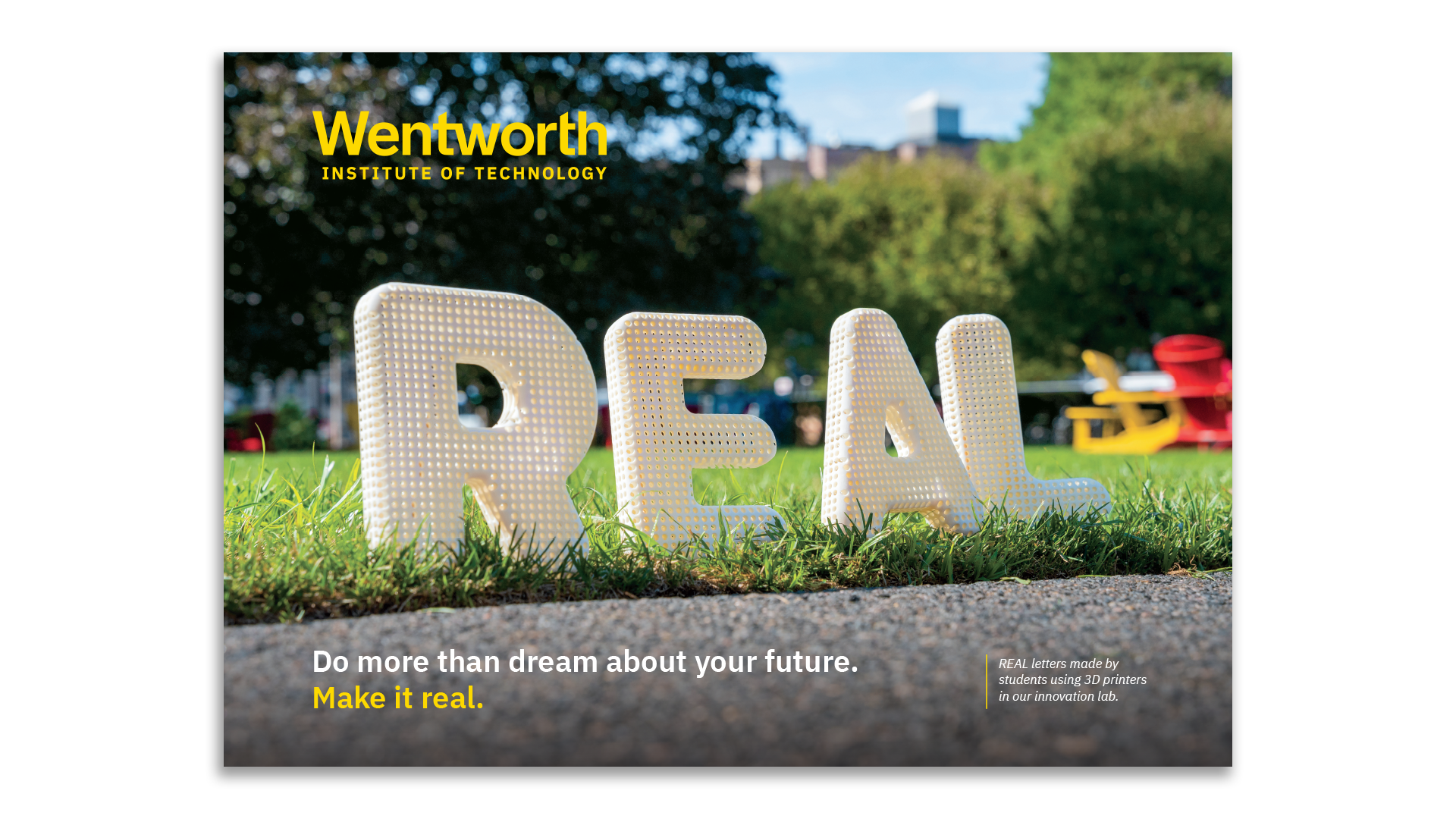 Custom Campus Map: For the undergraduate travel piece (led by Brittany Latham), I produced a custom map showing the WIT campus, Colleges of the Fenway, resources like hospitals, and WIT students' favourite neighbourhood restaurants. This was created using Mapbox.

Art Direction – Photography: For each deliverable, we conducted custom photoshoots. I collaborated with my team leads, MB Jarosik and Jim Gibson to art direct the following images, including the viewbook cover. Layouts designed by Jim Gibson.

Travel Piece (Concept): One of the ideas presented to the client was a poster, which folds down into a 6x9 brochure with information on one side, and a customized map on the back. Here are some layouts and a video showing a miniature prototype of how the poster folds down.